What is the United AYBS Webmaster Coalition?
The United AYBS Webmaster Coalition is a new group created to promote file sharing, information sharing, and general promotion between all AYBS websites.
The purpose of the group is not just to share files, info and promos, but it is also a symbol of quality. It means that the utmost care has gone into making sure that the information presented is current. It also means that the webmaster has gone to extensive lengths to build not only an information-packed site, but it is eye-pleasing as well. You won't find purple backgrounds with yellow links and green text on a site with this seal! And, this symbold means that the site has been connected to other AYBS sites symbolizing unity, not competition, between AYBS sites.
This is not a webring either. This symbol is quality. It is out promise to you, and our duty as AYBS webmasters to present great sites. As webmaster I feel these sites are the cream of the crop.
If you run an AYBS site, and wish to become part of the UAYBSWeb, feel free to e-mail the webmaster at webmaster@hurricanetracker.net and he will get back with you as soon as possible.
United Are You Being Served? Webmaster Coalition Sites
The Are You Being Served? Homepage! (Yup, this very site you're at now!)
Grace Borthers Multimedia Department
Minki's Are You Being Served? Shrine
Miss Jackson's Virtual Video Vault
Diana's Canteen
Fred's AYBS Library
Pauls AYBS Website
United AYBS Webmaster Coalition Graphics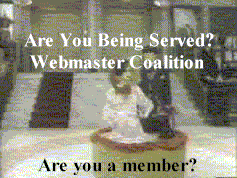 Center floor screen shot

German Week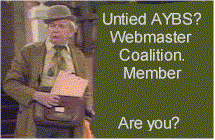 Shedding the Load

The Think Tank

The AYBS Movie
Graphics to show your visitors that you are a member of the AYBS Webmaster Coalition are down below.

For reference, we'd like to ask that people wishing to join would e-mail us and let us know. We do require a link, whether graphic or text, on the front page of your site.